Norwich Historical Society has collaborated with cartoonist, Emily Zea, to publish a series of illustrated histories about Norwich. These histories feature Norwich's early years, stories of our rivers and mills, women's history, and town government and civics. We have now combined them into one book, Becoming Norwich.  Books are $12.95. Click here to order.
This exhibit presents Emily's illustrations and connects them to the artifacts, portraits, photographs, and archives that she used for reference. The first room introduces Emily's artistic process and invites you to try your hand at drawing.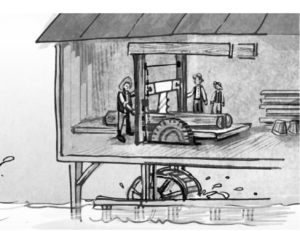 The second room illustrates Norwich's early years. It reminds us that Abenaki people were here when the settlers from Connecticut first arrived and are still here in this community today. The exhibit includes the town's founding documents, the story of Lucy Terry Prince and her quest for justice, and highlights the role of the store in the community.
The third room introduces Norwich town government, in the past and today, with artifacts that illustrate important elected offices. The power of debate and discussion in decision making is highlighted with examples of important decisions made in Town Meeting.