by Lauren Pidgeon
After the Armistice in November, Garey was convinced he would be home in a few weeks. As time went on, Garey's superiors made matters worse by telling the soldiers they would be staying in France for an "indefinite time". Finally in early May, Garey and his fellow soldiers were told they were headed home and in late June, Garey was back in America.
May 11th, 1919
Commercy, France
Dear Ma,
Mothers of the 7th Division sure will be glad to get their letters for we are "Homeward Bound". Every one is singing and whistling the song "Homeward Bound…It goes, "When General Pershing gives the command you are Homeward bound what a wonderful, wonderful sound".
In Garey's letters he seemed so excited to come home. He told his parents he was counting the days and hours until he was on "the high seas". His next letter was written a few weeks later when Garey was back in America.
June 21st, 1919
Camp Mills
Dear Ma, Pa & all,
Well at last I am back in the good old U.S.A. God's Country.
In 1922, Garey married Dorothy May Campbell and they lived near his family's farm on the Ompompanoosuc. They didn't have any children but they stayed close with Garey's brother and his children and later moved in to the Carriage House on Main Street with Dorothy's mother until Garey's death in 1965.
This is the Carriage House on Main Street. It looks almost exactly the same now as it did in this picture from 1955.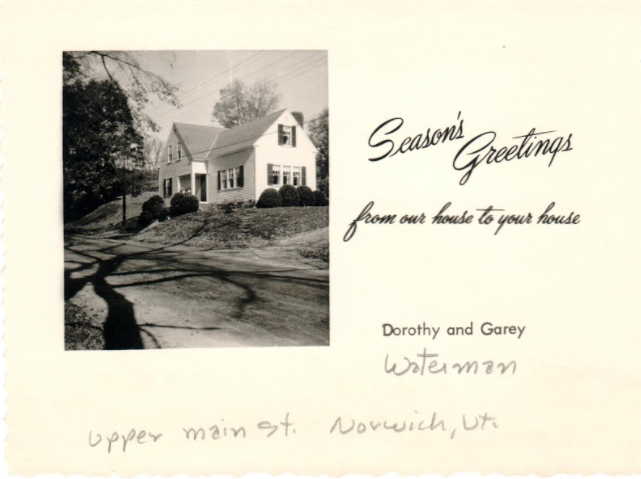 Garey's life, told through his letters was incredibly interesting. From his childhood in rural Norwich to traveling around France with the army, to his return to Norwich, Garey's knowledge of the world expanded immensely. Despite having left his home, Garey's letters show how dedicated he was to his family and community, which was why he came back to spend the rest of his life here.
Garey was one of over 35 World War I soldiers who came from Norwich. Go and spend a minute at the World War I memorial outside Tracy Hall to commemorate all the soldiers who fought for America.