By Sarah Rooker with Doug Hardy
Doug Hardy has been helping us to figure out exactly where Ebenezer lived and farmed. We began by looking at the 1869 Beers Atlas map of Norwich. By layering the map onto Google Earth, we found Ebenezer on Beaver Meadow Road.
Our next question was whether or not the house was still standing.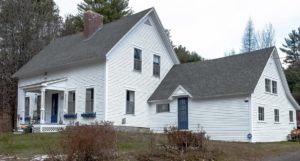 Could it possibly be this house that was recently for sale? I worked through the deeds at the Town Clerk's office. As I went back through time, I eventually came to a deed that said this house was bounded by Charles Brown's land. So, no. This house was not the farmhouse. It meant that I needed to turn the quest back over to Doug.
Doug then walked toward town from Parcel 5 with his GPS. There are several foundation holes within view of Beaver Meadow Road and the Parcel 5 trails. On the 1869 map, the circle representing his house is 39% of the distance from P5/BSH junction to where the class 4 Tilden Hill extension hits Beaver Meadow. When Doug measured the ratio of his walk he got 35-39%. So the conclusion is that these cellar holes belonged to Ebenezer.
I took up the quest back at the Town Clerk's office. After many trips back and forth to the vault, I found a notation that when Ebenezer's son, Charles, died, the land was sold to the Norwich Water Supply Company. This all makes sense as these cellar holes are within the boundaries of Parcel 5. The Brown Farm is now publicly-owned, within Parcel 5 of the Fire District. We plan a hike this spring to further explore this farm.