The next time you turn onto Beaver Meadow Road from Main Street imagine Eber N. Clark (1809-1905) with tools and leather in hand fashioning and repairing boots and shoes in his shop that once stood near the northwest corner. Two of his account books and several cast iron lasts help document shoemaking and repair in Norwich in the mid-to-late 19th century.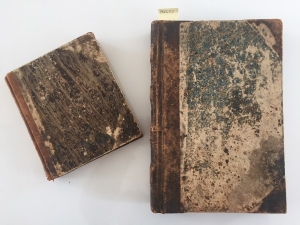 From his account books which span the years 1843-1859, we learn that Clark made "coarse boots," ladies gaiters, slippers, booties, and shoes from calfskin, horsehide, and goatskin. He also tapped and patched heels and shoes and even mended the occasional harness.
Most of his customers paid in cash, but others by exchange of goods or services.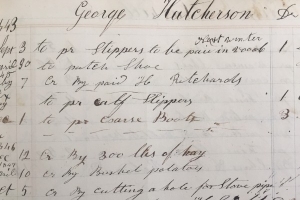 In this page from Clark's account book, we see that George Hutcherson purchased a pair of slippers on credit, to be paid next winter in wood. He also had a pair of shoes patched and purchased some calf slippers and a pair of coarse boots. He paid for all of this with hay, potatoes, and by cutting a hole for a stove pipe for Clark.
Clark made a lot of boots. Part of the Norwich University curriculum was to go on "walks." Here is a sample of some roundtrip walks:
October 8 – 10, 1821 Woodstock, VT 40 miles
October 11 – 17, 1822 Montpelier, VT 115 miles
June 13 – 22, 1822 Concord, NH 145 miles
September 17 – 22, 1823 Manchester, VT 159 miles
Letters home to parents often itemized expenses. Many include the costs of having boots and shoes half soled and patched.
We do not know if Clark used any of these lasts in his shop –he may have had wooden lasts. The lasts, which were placed on an anvil, provided a surface on which to fashion or repair a shoe. Before the 1840s there was no differentiation between the shape of the left and right shoe. Happily, that has changed.