About the Project
James Eiler, Lauren Pidgeon and Hank Trimble are Hanover High students who worked at home throughout the spring, transcribing letters written by Garey Waterman home to his family during World War 1.Lauren spent the summer researching Garey's story and will be sharing his story throughout the fall.
Introducing Letters from the Front
by Lauren Pidgeon
I first started learning about Garey Waterman while transcribing his letters from WWl for the historical society. In the letters I transcribed, Garey was 22 years old and he had recently arrived in France in early September, 1918. The letters didn't reveal many personal details or much about his family. I was curious and decided to do some research to find out the story of his life. I looked up Garey on Ancestry.com and in the NHS archives and discovered some basic facts about him. Born in 1895 in Norwich, Garey, his brother Wallace, and their parents lived in the Ompompanoosuc region of Norwich, on Old Bridge Rd.
This was interesting but not really enough to write about so of course I had Sarah help me out. She did some digging around at the historical society and found a box full of documents that had once belonged to Garey. Originally I had thought that we only had about 30 letters, but after the discovery of the box, I realized there were hundreds! Sarah and I spent hours pouring over them trying to piece together the life of Garey Waterman.
We also discovered that Garey attended the Pompanoosuc school district and found some pictures of him with his schoolmates. After elementary school, Garey went to Thetford Academy. Unfortunately he missed his own graduation and prom because he was called up. In a way, Garey was in a similar situation to the seniors this year who missed their last few months of school.
We also found his Draft Registration Certificate and prom invitation. We discovered that he had signed up to be drafted in June of 1917, just before his senior year of high school. I became a bit confused because I realized that he must have been pretty old compared to his classmates. It hadn't occurred to me until that moment, but suddenly I realized that if Garey was born in October 1895, he was 22 years old when he was finishing high school. How crazy! Perhaps Garey took extra time to complete high school because he was a farm boy.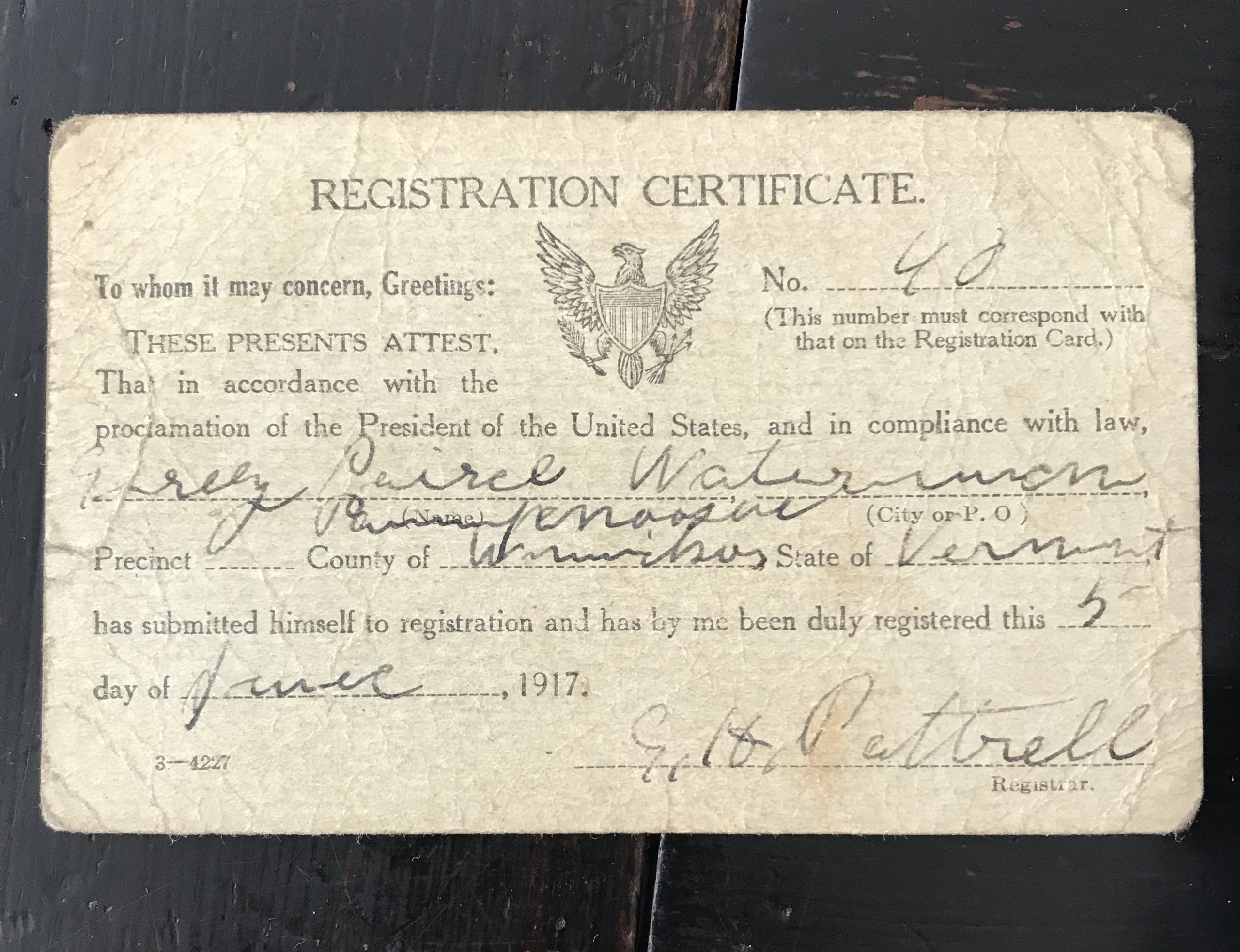 June 6, 1918
Dear Ma,
Yesterday I received an invitation to the graduation at the Hill… and today I received an invitation for the prom the 14th. I wish I could be there. Probably Roy will go won't he. If he asks tell him to remember me to all the girls. 
When we first meet Garey through his letters, he is on his way to training. He wrote almost every day to his mother who carefully numbered each letter and dated them when she received them.  Garey also dated his letters and often wrote his location which made it a lot easier for me to keep track of the order of the letters.
Burlington VT. 
May 17, 1918
Dear Ma, Pa, and all,
We got here at last last night at 9 oclock. They had the Domertory all filled up by the time we got hear so they set up cots here in the (Gymnasium) (I know this is not spelled right but guess you can understand what it is.) There are about 230 here. There must be about 500 all told. There are more then they expected. 
Garey trained in Burlington for a month and Camp Merritt, NJ for two months before being shipped off to Europe.