Click here to see all the circles (thanks, Chad Finer)
Want to see the "how-to" website? Click here
Over 175 Norwich residents contributed to our mural by painting canvas circles after reflecting on what has brought them hope during this pandemic. It is now installed at Dan & Whit's.
We had an incredible team work many, many hours to make the mural. Many thanks to Tracy Smith, Carla Vincent, Cheri Mather, Wendy Thompson, and Nancy Cressman. Thanks to Scott Miller of The World Story Exchange for stepping up to do the hard work of mounting the mural.
Many, many thanks to St. Francis of Assisi Church, Norwich Congregational Church, Beaver Meadow Schoolhouse, Norwich Public Library, and the Children's Art Studio for hosting painting sessions and helping to get the word out. The children at Norwich's Children's Art Studio wrote some very sweet notes about their circles and thought so carefully about what they cared about. Here is a photo of the workshop at the Congregational Church:
We asked participants to share their reflections on painting and the pandemic. Here are a few (the quotes don't necessarily go with the exact circles):
Putting one foot in front of the other and having others to share the experience with is one of the best coping mechanisms I can think of.
Our 7-year-old took the lead on design, and we all painted a part. Our artistic abilities may not compare to those of our neighbors (!), but we were so pleased to have the chance to be part of this community effort to mark this time in our lives and history.
My experience of COVID19 was very challenging and I found what brought me through it was my friendships, my faith, music, light and walks in the wilderness, and planning my gardens. These all brought me hope.
It was incredibly soothing and calming to play with the colors and shapes on the canvas, knowing no one in the community will judge my efforts – we are truly all in this together!
What has stood out to me during this pandemic is the generosity of people and the kindness within our community. I think the biggest reflection of that has been Dan Fraser's community-building.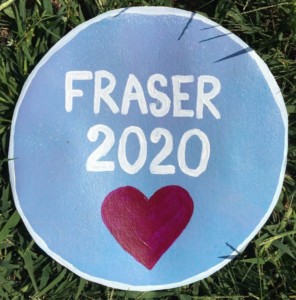 We painted our circle as a family and focused on bright spots during the pandemic. We all agreed that family, nature, gazing at clouds, and our dog (Pearl) have been so important to us these recent months. 
As older citizens, we now spend long hours inside our house and outside in our gardens. We are grateful that "Home Is Our Haven."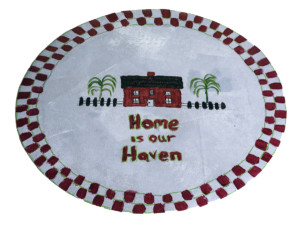 It's really hard to not share every single circle, so here's a word cloud that captures the themes and a photo album. Thanks to Chad Finer for photographing every circle on short notice.

THANK YOU TO OUR SPONSORS
Gail and Nick Sanders and the Hypertherm Hope Foundation
Norwich Public Library
Dan & Whit's